Sunday Workshops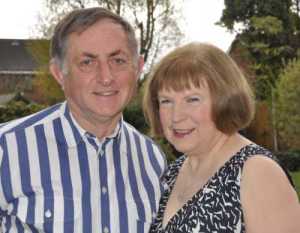 The Workshops are aimed at dancers who have mastered the basic figures of dancing. The dances will generally be more complex than those on a club night programme, but there will also be an emphasis on improving dance technique, all in a relaxed and friendly atmosphere.
The Workshops are led by Kathryn and David Wright who have an extensive calling repertoire and enjoy making challenging dances accessible. Music is either from CDs or a guest musician.
A typical workshop will include dances in English and American style, some old and some new, from Playford classics to modern contras and squares.
Workshops take place in St. Chad's Hall, The Leasowe, Lichfield, WS13 7HD (on the corner of The Leasowe and Giffords Croft) from 8 p.m. to 10 p.m. from September through to March, usually on the second Sunday of each month.
The price is £3 which includes tea or coffee in the interval.
For further details, contact Kathryn and David on 01543 268756
email:-kanddwright@aol.com


11th March 2018 Music: Rod Stradling
9th September 2018/19 Season starts with CDs
Oct 14
th with CDs
Nov 11th , with CDs
Dec 9th. with Chris Dewhurst
2019,
Jan 13th, with Chris Dewhurst
Feb 10th, with Rod Stradling
Mar 10th. with Rod Stradling