Sunday Workshops 2020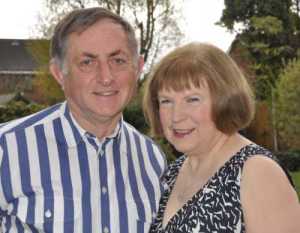 Have you mastered the basic dance figures and want to try some more complex dances as well as improve your dancing technique? Do you want to take your dancing a stage further, but without losing a sence of fun?
If the answer is yes then the Lichfield Sunday workshops could be for you. They are led by Kathryn and David Wright who have many years of experience and an extensive calling repertoire and who enjoy making challenging dances accessible.
A typical workshop will include dances in English and American style, some old and some new, from Playford classics to modern contras and squares.
Music is either from CDs or a guest musician.
Workshops take place in St. Chad's Hall, The Leasowe, Lichfield, WS13 7HD (on the corner of The Leasowe and Giffords Croft) from 8 p.m. to 10 p.m. from September through to March, usually on the second Sunday of each month.
The price is £3 which includes tea or coffee in the interval.
For further details, contact Kathryn and David on 01543 268756
email:-kanddwright@aol.com
2020
13th September 2020 with CDs Cancelled with regret
11th October 2020 with Chris Dewhurst Cancelled with regret
8th November 2020 with CDs Cancelled with regret
13th December 2020 with Chris Dewhurst Cancelled with regret
Dear Dancer(s),
I am sure you will not be surprised to hear that we feel that there is no alternative but to cancel the Lichfield Folk Dance Club Sunday Workshops for the rest of 2020 due to the restrictions required due to the coronavirus pandemic.
We will review the situation before Christmas to decide whether it would be possible to run the workshops booked in 2021 i.e. 10th January, 14th February and 14th March and contact you again to let you know whether they can go ahead or not.
We hope that you are keeping safe and well and that we can meet on the dance floor again in the future.
With best wishes,
Kathryn and David