Club Nights
FURTHER HELP IF NEW TO DANCING
If you are new to Folk Dancing then this page will hopefully give you an idea of what it is like at one of our evenings.
Members doing a left hand Star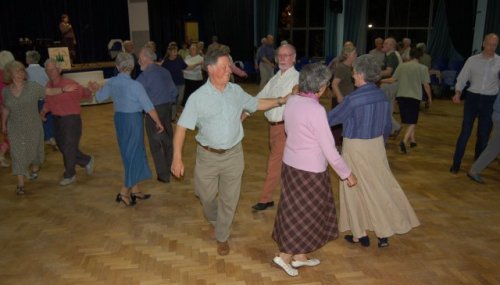 1. Experience.
No previous experience of dancing is necessary. We are a friendly club and we welcome new members. Dancing is suitable for all ages.
Our membership ranges from beginners to experienced dancers. Many of our members have been dancing for very many years..
2. Partner
You can come on your own, or as a couple, or any other combination. All dances are done with a partner, and in sets of varying numbers of couples. But don't worry about a partner, there will usually be someone to dance with if you come on your own.

3. Dress
There is no dress code, just wear clothing and (flattish) shoes which will be comfortable for dancing in.
4. The caller will teach each dance during a walk through and then prompt while you are dancing, so it doesn't need to be a great memory test.
5. Degree of Activity
Dances vary from lively to the more sedate. Generally, they are not too energetic and are suitable for anyone of average fitness. Dances vary in complexity, but all are made up of several basic figures.. You should soon pick up what the moves are called, although it might seem at first as if you are needing to learn a new language! . The emphasis is on enjoying yourself, in a friendly formal atmosphere.
6. Regular attendance is not essential, although of course we hope that you will come often. Membership is only £5 per year with a weekly charge of £2.00.
7. We normally meet on Monday nights in Bader Hall, term time only. Dancing starts at 7.45pm and finishes at 9.45 p.m.
There is an interval halfway through the evening, for about 15 minutes, and you will need to bring your own refreshment".
Your first visit will be free of charge.