In English Country dancing, people of all ages dance with a partner
but also in larger groups. Some of the dances are newly composed:
some have been enjoyed from as far back as the 17th century.
They are always explained to remind everyone of the
sequence of movements involved.
The music is normally CD's and led by a caller.
There is no need to come with a partner:
the atmosphere is informal with emphasis on friendliness and enjoyment.
---
Club nights are normally at the Bader Hall of King Edward School,
Kings Hill Road, Lichfield WS14 9DE, except during school holidays,
when we normally use St Chad's Church Hall, The Leasowe WS13 7HD
See dates below:
We meet on Mondays at 8pm and dance until 10.15pm with a break at 9pm of about 20 minutes.
You need to bring your own refreshments.
For confirmation of location and any other queries contact
Christine Simpson +(44)01213553757 or 07809027421
---
NEW MEMBERS ARE ALWAYS WELCOME
INCLUDING BEGINNERS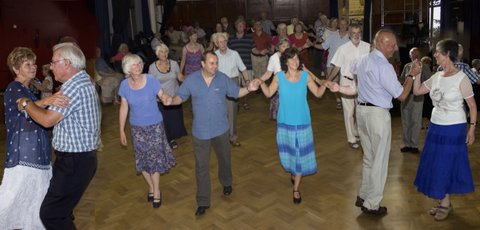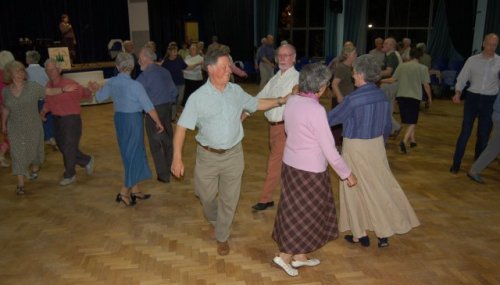 ---
PROGRAMME Autumn 2014
| | | | |
| --- | --- | --- | --- |
| | Date | VENUE | |
| Sep | 22 | Bader Hall | Phil & Cynthia Stone |
| | 29 | Bader Hall | David Wright |
| Oct | 6 | Bader Hall | Geoff Morgan |
| | 13 | Bader Hall | Geof Owen |
| | 20 | Bader Hall | Derek Osburn & Christine Dodd |
| | 27 | St Chad's Hall | Jeff Miller |
| Nov | 3 | Bader Hall | David Wright |
| | 10 | Bader Hall | Geoff Morgan |
| | 17 | Bader Hall | Joyce & David Berry |
| | 24 | Bader Hall | Derek Osburn & Christine Dodd |
| Dec | 1 | Bader Hall | David Burke |
| | 8 | Bader Hall | Kathryn Wright |
| | 15 | Bader Hall | Christine Dodd & Geof Owen |
| Jan | 5 | Bader Hall | Spring Term starts |
Sunday Advanced Workshops of English Country Dance 2014
with David and Kathryn Wright
Next workshop Sunday 12th October
This will be David and Kathryn's 35 year of running the workshops. We are very grateful for the hard work and effort they put in to make the workshops so informative and so much fun.
8pm to 10pm
We normally have live music
St Chad's Church Hall, WS13 7HD
-------------------------------
INGESTRE BALL
See Ball page
--------
-----------
---------------------------
This site is funded by its members
---------
WARNING
If you are considering English Country Dance, please be aware of the dangers. First history shows that once you've been drawn in, it is highly addictive. Those who are already addicted often fail to share the truth about its significant side effects. These include involuntary movements such as toe tapping, spontaneous twirling, and facial distortions that look suspiciously like smiles and grins.
Even when not at an actual dance victims have suffered these effects. Some have carelessly played the music in the privacy of their own homes and suddenly found themselves twirling and skipping, even in the midst of normally sober activities. Imagine the horror of finding yourself dancing the dishes from the table to the kitchen!
Memory loss: Even though memory is reported to be improved by this form of dancing, there is a tendency for it to cause forgetfulness in some areas. We don't have any scientific studies but several dancers have exhibited major forgetfulness about their cares, irritations, and troubles.
Be careful friends your life may change if you get involved with this seemingly innocent exercise.
DANCING MAKES YOU SMARTER
The 21 year study of senior citizens 75 and older, was led by the Albert Einstein College of Medicine in New York City. Funded by the National Institute on Ageing and published in the New England Journal of Medicine.
% = reduced risk of dementia
0% = Bicycling, swimming, playing golf
35% = Reading
47% = Doing crossword puzzles at least 4 days a week
75% = Dancing frequently
Quoting Dr. Joseph Coyle, a Harvard Medical School psychiatrist who wrote an accompanying commentary: The cerebral cortex and hippocampus, which are critical to these activities are remarkably plastic and they rewrite themselves based upon their use.
Reduces stress & depression
Increases energy & seratatonin
Improves flexibility, strength, balance & endurance
Strengthens bones & boosts cardiovascular health
Increases mental capacity by exercising our cognitive processes
Dynamic & rapid fire decision making, creates new neural paths
From the Australian Webb site. Sydney English Country Dance