In English Country dancing, people of all ages dance with a partner
but also in larger groups. Some of the dances are newly composed:
some have been enjoyed from as far back as the 17th century.
They are always explained to remind everyone of the
sequence of movements involved.
The music is normally CD's and led by a caller.
There is no need to come with a partner:
the atmosphere is informal with emphasis on friendliness and enjoyment.
---
Club nights are normally at the Bader Hall of King Edward School,
Kings Hill Road, Lichfield WS14 9DE, except during school holidays,
when we normally use St Chad's Church Hall, The Leasowe WS13 7HD
See dates below:
We meet on Mondays at 8pm and dance until 10.15pm
with a break about 9pm of about 20 minutes.
You need to bring your own refreshments.
To Find Bader Hall.
On London road turn into Borrowcop Lane and almost immediately take the left turn into Kings Hill Road and go up the hill.
You will pass a leisure centre on right and all weather pitch on your left. Turn into parking area on right after the last building on the right (beware of a red barrier post) and you will see tennis courts beyond this. Park either on visitor's car parking area or on the tennis courts.
The entrance to Bader Hall (main school hall) is quite difficult to find .
If you stand at entrance to tennis courts with courts behind, look for a double door in building to your left. Go through doors and up the stairs. At the top of stairs go left and through wooden doors to a corridor. Bader Hall is now on your left!
For confirmation of location and any other queries contact
Christine Simpson +(44)01213553757 or 07809027421
---
NEW MEMBERS ARE ALWAYS WELCOME
INCLUDING BEGINNERS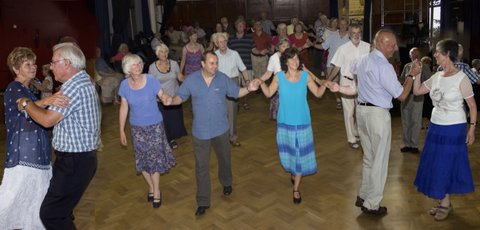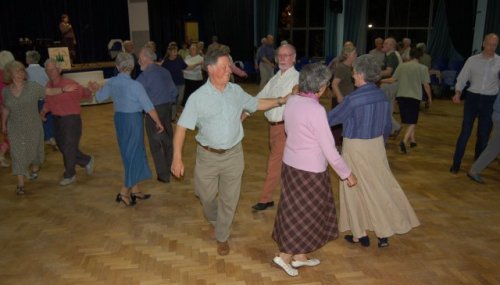 Click :-Club Members celebrating the Battle Of Waterloo at the St Mary's Centre, Lichfield, June 2015 dancing "Duke of Kent's Waltz"
---
AUTUMN DANCE
SATURDAY
24TH OCTOBER 2015
TREVOR MONSON
with
"KEEPING THYME
at SHENSTONE VILLAGE HALL
Near LICHFIELD
WS14 0LT
Coffee/Tea/Biscuits in the interval
7.30pm- 10,30pm dance £6.50
PAY ON THE DOOR
Details:-Ken Whinray 01543676327
See Dance page
---
PROGRAMME Summer 2015
Date

VENUE

2015

June

29
Bader Hall
Joyce & David Berry #
July
6
Bader Hall
David Burke
13
Bader Hall

Club Callers

End of Term Party night

Sep
7
Bader Hall
Kathryn Wright #
14
Bader Hall

Phil and Cynthia Stone

21

Bader Hall

David Wright #

28.

Bader Hall

Christine Dodd

Oct

05

Bader Hall

Geoff Morgan

12.

Bader Hall

Joyce and David Berry

19.

Bader Hall

Geof Owen

26

St Chad's

Jeff Miller

Nov

02

Bader Hall

Kathryn Wright #

09.

Bader Hall

Phil and Cynthia Stone

16

Bader Hall

David Burke

23

Bader Hall

Joyce and David Berry

30

Bader Hall

David Wright

Dec

07

Bader Hall

Derek Osburn

14

Bader Hall

Party night: Club callers

Jan
4

Bader Hall

Spring Term Starts
# training improve your dance 7.40-7.55pm
Sunday Workshops of English Country Dance 2015
with David and Kathryn Wright
Next workshop Sunday 13th September 2015
This will be David and Kathryn's 35 year of running the workshops. We are very grateful for the hard work and effort they put in to make the workshops so informative and so much fun.
8pm to 10pm
We normally have live music
St Chad's Church Hall, WS13 7HD
-------------------------------
INGESTRE BALL
Saturday 19th September 2015
See Ball page
-------------------
-----------------------
This site is funded by its members
---------